Apartment Arpa
suitable for 4 people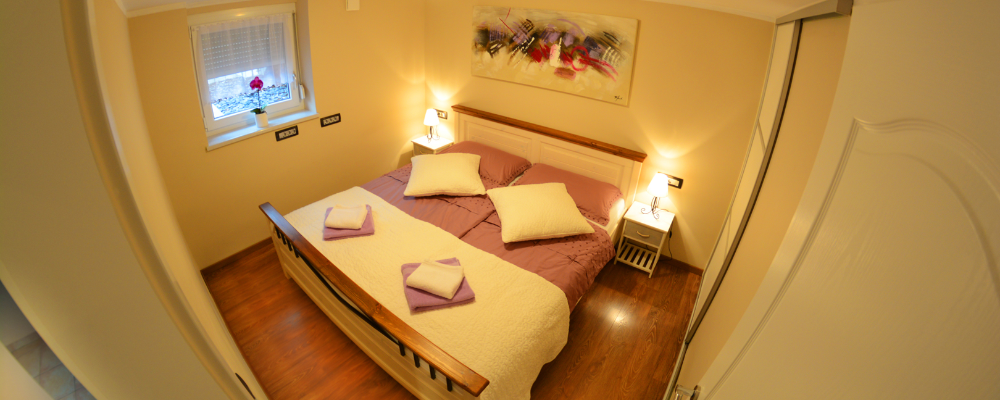 The apartment is recently renovated, comfortable, modern and with big atrium. It is located in a quiet, pleasant and green neighborhood. It offers a bedroom with a king size bed, living room with an expendable sofa bed and cable flat screen TV. Kitchen with dining space is fully equipped with brand new appliances: a ceramic glass stove, an oven, a fridge, dishwasher, coffee maker, water heater and toaster. From the kitchen there is an exit to the atrium, which offers a nice seating area with a view to the garden. The bathroom has a bath with a shower, a bidet and a washing machine. In the apartment there is a lot of storage space for clothes and a free Wi-Fi connection.
The apartment offers:
bed linen and towels
toilet paper and soap
kitchen appliances
free Wi-Fi
free parking space
change of towels and bed linen at a longer stay
For additional services and options please refer to our pricelist.
Excellent
The host was ever so helpful and welcoming. Appartment was clean and comfy, quiet neighborhood.
- Geneviève, CA
Nice place to stay in Ljubliana.
Very friendly & helpful owner. Very clean and high equipted apartment. Bardzo przyjazny i pomocny właściciel.
- Ewa, PL
Cenik:
 

1.7 - 31.8
20.12 - 5.1

1.6 - 30.6
1.9 - 30.9

1.10 - 19.12
5.1 - 31.5

Extra charge
for additional person
Price for 2 people per night
Check-in after 16.00, check-out before 10.00
91,00
73,00
59,00

Third person 15,00
Fourth person 30,00
Discount for direct booking:
Extra charges:
New year + 20% to the existing price
Tourist tax - adults 1,27 €
Tourist tax – children 0,64 €
Arrival after 21.00 - 10,00 €
Arrival after 23.00 - 20,00 €
No matter the occasion we are the right choice for your visit.